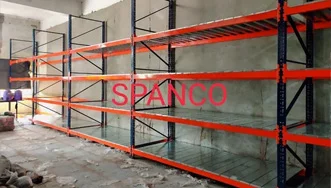 Providing you the best range of pallet rack shelving, pallet storage racking system, heavy duty pallet rack, hdpe plastic pallet, pallet storage systems and industrial pallet racks with effective & timely delivery.
Best Pallet Storage Systems Manufacturers in Delhi- Spanco
Are you looking to optimize your warehouse space, Pallet Storage Systems in Delhi, Haryana, Rajasthan, Uttar Pradesh, Punjab, etc. are the best solution. They are designed to revolutionize the way you handle and organize goods, ensuring seamless workflows and space utilization. Look no further than Spanco Storage Systems, one of the best Pallet Storage Systems Manufacturers in Delhi, with clientele from Gurgaon, Sonipat, Dehradun, Dehradun, Jaipur, Noida, and more. Built with durability in mind, our pallet storage systems are constructed from premium materials to withstand the rigors of daily warehouse operations.
Top Pallet Storage Systems Supplier in Delhi, India
With years of experience in storage solutions, we, the prominent Pallet Storage Systems Manufacturer in India (Bhopal, Faridabad, Chandigarh, Agra, Shimla, and beyond), known for the best quality. Our experts understand the unique challenges businesses face and provide tailored recommendations to address them. Our pallet storage systems are customizable to meet the unique needs of your business. Whether you require selective pallet racking, drive-in racks, or push-back racks, we have the solution for you no matter whether you are in Jammu and Kashmir, Uttarakhand, Madhya Pradesh, Himachal Pradesh, or anywhere in India. Stay ahead of the curve with our innovative pallet storage systems that leverage the latest technological advancements. Enhance the overall efficiency and productivity of your warehouse.
Features of Pallet Storage Systems:
Efficient storage in limited space.
Easy access to individual pallets.
Clear visibility for inventory management.
Streamlined handling and retrieval processes.
Supports different inventory management strategies.
Easily expandable to accommodate growing needs.
Application Areas of Pallet Storage Systems:
Warehousing Facilities
Distribution Centers
Manufacturing Environments
Retail Storage
Logistics and Transportation
Call Us- Pallet Storage Systems Wholesalers in India
From concept to completion, we, one of the well-known Pallet Storage Systems Suppliers in India (Lucknow, Ghaziabad, Panipat, Gwalior, Amritsar, Indore, and so on.) Contact us today to discuss your specific needs. We, the reliable Pallet Storage Systems Wholesalers in India, are here at your service. Call us or fill out the enquiry form now!
Copyright © 2023 Spanco Storage Systems | All Rights Reserved. Website Designed & SEO By Webclick® Digital Pvt. Ltd.